Your search for best internet marketing company in Bangalore ends here; Nexgen Digital Marketing Solutions is a team of cool coders, passionate SEO experts, wonderful writers, digital marketing strategists, social media lovers and creative designers led by a gentleman with more than 25 years' experience in marketing. We have been offering best internet marketing services in Bangalore from 8 years. We don't work just to get paid instead we always talk about performance guaranteed services. And we promise the results because we know you won't be disappointed with our online marketing services.
From website development to generating leads, we help you in every step of taking your business online. Where other internet marketing agencies focus only on the KPIs like ranking, traffic, followers etc. We care about fulfilling your end goal (conversion/sales) along with the KPIs. Our SEO packages do not include limited SEO activities according to the prices. When we work on your website, we do whatever it takes to rank the site without spamming low quality backlinks. And along with that, we also optimize the website for search engines as well as users for better conversion.
Web Development
In this online competition world, having a business website is not an option whether you have small, medium or big scale business.
Read More
If you don't have your business website you are probably losing a big number of customers, profit and impressions.
NexGen Digital Marketing Solutions are one of the top web design and web development company in India, located in Bangalore. We offer the best web design and web development services with budget-friendly packages. We have been providing website design, website development, web portals, and web application development services for the last 8 years with 400+ projects all over India, 350+ satisfied clients.
Read Less
SMM
Every day your competitor is stealing your customer base if you are not active on social media channels.
Read More
So how do you take back your customers from competitors? 3 words – Social Media Marketing.
Social media marketing relies on social media platforms to connect with your audience in order to build your brand and drive traffic to your website. Social platforms help the businesses to connect and stay connected with fellow business and the customers. With more than half the population present on social media, your potential customer is just a click away.
Read Less
SEO
If your website is not optimized for search engine, you are missing out on valuable traffic and potential customers.
Read More
So how do you optimize your website for search engine? 3 words – Search Engine Optimization (SEO).
SEO is the work done in order to increase your website's visibility on a Search Engine Results Page (SERP). Google alone has over 200 factors which it takes into consideration to rank websites around the world based on their relevance to a customer.
We at Nexgen Digital Solutions make use of our proven SEO strategy to help you rank higher on Google and generate massive traffic flow to your website. SEO is an important step to bring organic traffic to your website through search engines.
Read Less
PPC
Pay Per Click (PPC) is the most effective advertising channel where the ads appear on the top and bottom of Google Search Results.
Read More
PPC can be a good method for targeted marketing, especially for small and medium size business who are unable to compel organic traffic on their website.
If the campaign is setup right, PPC can be an extremely effective way to appear in front of potential customers looking for your service.
Our PPC specialist at Nexgen Digital Solutions develop an optimal strategy and constantly monitor the campaign in order to fully capitalize the full potential of the PPC campaign.
Read Less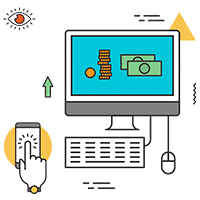 Display Advertising
Display Advertising as a great way to build brand and awareness and also to re-target users who visited your site. With Google Display Advertising your ad can appear in 2 million websites and 6,50,000 apps. Specialty of a display ad is you can select different audiences based on their age, gender, interest, etc.
SMM (Social Media Marketing)
Facebook alone has 326.1 million active users in India, and the average time a person spends on social networking sites is 144 minutes per day. And as a businessman if this number didn't inspire you to run advertising on social media, then you are leaving a big opportunity for your competitors to beat you.
Local Search engine Optimization
If you are thinking just optimizing your website for search engine is enough for your business, then you are definitely missing out something important. Surveys say that 82% people search 'near me' on google before visiting an offline store. Local Search engine optimization helps you rank for 'near me' searches.
National/ International SEO
If you believe that mentioning more place's names in the single page or creating a separate page for each city / country with the same old content will help you rank for other cities / countries related search, then trust me it's not going to work. International SEO requires the same effort to rank the keywords.
SMO (Social Media Optimization)
People often get confused that social media marketing is both managing a social media profile and advertising on social media, but creating a social media profile, keeping it updated and earning more fans / followers without spending money on ads is called as Social Media Optimization or SMO.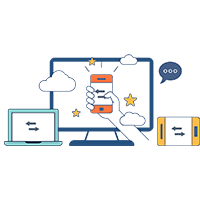 Responsive Web Design
Having a website is okay but having a website which provides better user experience on all devices is great. Now people don't browse only on desktop and laptop like the old days, electronic gadgets like mobile, tablet, iPhone and smart watch are the major source of global internet traffic.
Frequently Asked Questions